Expert in Teams - SDU Vikings Racing Team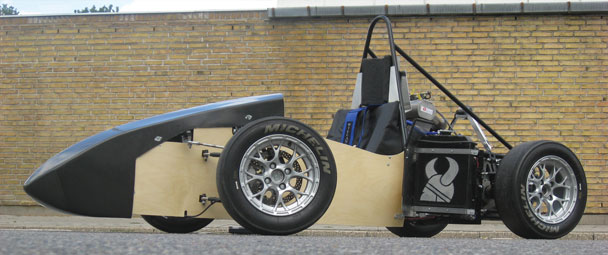 Working with race cars, most parts are prototypes, as there is not time enough to test and evaluate on every feature. With the steering wheel, the situation is no different, as it properly had the lowest priority, so when I was handed the task just 7 days before departure to Silverstone, UK, I had to work hard and fast, as I both had to design and manufacture all the components that were needed. Because of the small amount of days I had available the shift paddles never made it on to the backside of the steeringwheel, but if you go through the pictures you will find rendered images of how they were supposed to look when mounted (there was a problem with some paint that wouldn't dry).
Going through the images, you will also find rendered sketches of the suspension design, which I was in charge of and also designed independently. Beneath here are two videos from right before we left the faculty and from the event at Silverstone, UK.
Project Details
I worked on the project "SDU Vikings" in which we designed a formula student race car to be run for the University of Southern Denmark at Silverstone, UK, in July 2009, against a number of mainly European universities. More specifically, I was involved in the development of suspension and the steering, where I was project manager for the suspension team. Working under me I had three mechanical engineers from Poland and Lithuania.
Later I designed all the mechanics for the steering-wheel.
Important keywords for the project was:
Project management
Mechanical design
Multi-disciplinary teamwork
---
Steeringwheel - SDU Vikings Racing Team
You can read more about the steeringwheel I designed for this project in the section for rapid prototyping.
Go to Steeringwheel
---
Vikings II's first test run

This video is recorded at the parkinglot of the Faculty of Engineering in Odense, Denmark. It is the from the first of test run that we did before we went of to compete at Silverstone, UK.

Vikings II attends Formula Student 2009

This video is a documentary of what happened when we took Viking II to the IMechE's Formula Student 2009 Championship at Silverstone, UK.
If you find this interesting, here are three other projects that might interest you as well...