Who is Stefan Lydal Langpap?
I'm a 26 year old danish design engineer who recently (May, 2012) graduated from a Master of Science in IT Product Design at the University of Southern Denmark in Sønderborg, Denmark. I graduated my Bachelor of Engineering in January 2010 the Faculty of Engineering in Odense, Denmark.
I have been on the job market ever since I turned 13, working in widely different industries with everything from delivering news papers and parcels to cleaning and maintenance of industrial machinery.
My experience within the engineering profession starts in 2006 when I was accepted at the Faculty of Engineering. Throughout my training as an engineer I have acquired extensive experience with project-oriented work and cooperation across different educational paths and cultural backgrounds. I have worked on many different projects that all had to meet strict requirements from either market or cooperating partners. You can read briefly about these projects in my portfolio.
What I find most interesting is the development of the product, especially the user interface, or the prob post about the choice of material, which often says a lot about a product, but I also find issues such as mechanical design, finding intelligent solutions to complex problems very interesting.
I consider myself as an open, well functioning human being, always ready for new challenges. I am a very responsible person and I have also held several positions of trust in political associations in Odense from 2005 to 2010, just as I'm currently chairman of my party here in Sønderborg now (since mar. 2011).
Currently I am looking for a job or a PhD that matches what I really want to do: that is to either start working on developing some awesome domestic consumer electronics that brings joy to the people and their lifes, or continue the research I have started with my master thesis in HRI and social robotics for public space. One thing is for sure, and that is I have the passion to continue, so only time can tell where this leads me.
---
As mentioned above here, I have recently graduated from my master of science. The program is being run by SPIRE Research Centre at the Mads Clausen Institute, University of Southern Denmark. You can read much more about IT Product Design by clicking on the link below here.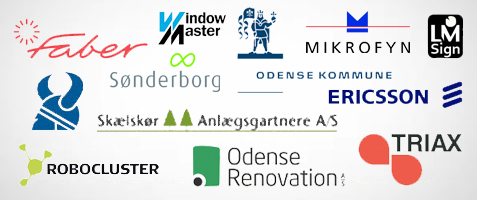 During my education and my professional life I have worked with a lot of different companies. You can read more about which companies, when I've worked for or with them and what I did by clicking on the link below here.